Photo Credit: Photoloco Photography 2906 Decidely st Green cove springs, FL 32043
M. E. Masterson's Newly Released "A Heart in Pieces: A Return From Devastation" Is an Intense Memoir of a Life of Shattered Dreams
"A Heart in Pieces: A Return from Devastation" from Christian Faith Publishing author M. E. Masterson is a heartbreaking true story of a girl who dreamed of a fairy-tale life, only to grow up to be a young woman with a lifetime of grief, abuse, heartache, trauma, and utter disappointment in how it all turned out, from the suffocating ultra-religious home environment, manipulation, sexual abuse, arranged marriage, bitter divorce, the tragic deaths of her children, and homelessness—all coalescing into a tale that God has still managed to wring beauty and hope from in the end.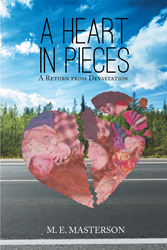 MEADVILLE, Pa. (PRWEB)September 25, 2018
"A Heart in Pieces: A Return from Devastation": an unforgettable memoir. "A Heart in Pieces" is the creation of published author M. E. Masterson, a reborn woman living in Missouri's Ozark Serenity Acres with her husband, Mountain Man Tom.
Masterson shares, "I heard his keys rattle at the door of our apartment as he slowly opened it. Kenny's head was hanging low, and his face as white as a sheet. I asked him, 'Why are you home early?'
I jumped out of the lazy chair I was sitting in, watching the late-night news. I grabbed the remote and turned off the television. From the expression on his face, I could see that it was something terrible. Kenny said, 'I have some really horrible news about Rick and Tina.'
I was instantly sick to my stomach when my intuition kicked in, the kind that only a mother can feel. I immediately went into hysterics screaming and crying back to him, 'Not my babies, please God, not my babies.' He tried reaching for me, but I pushed him away. He caught me before I crumpled to the floor.
Collapsed in a heap on the floor where my knees had buckled under me, I felt my life energy draining out of me. My mind was racing trying to digest this news that he has yet to finish telling me. He was cradling me while on his knees and said, 'They were in a bad car accident, and nobody survived.' "
Published by Christian Faith Publishing, M. E. Masterson's new book is a rending, raw, emotional chronicle that ultimately celebrates the resilience of a human spirit that has nothing but a thread of hope to go on—sometimes it is more than enough.
At the end of this difficult road, the author comes away stronger and with a deeper understanding of life and, importantly, of love.
View a synopsis of "A Heart in Pieces: A Return from Devastation" on YouTube.
Consumers can purchase "A Heart in Pieces: A Return from Devastation" at traditional brick & mortar bookstores, or online at Amazon.com, Apple iTunes store, or Barnes and Noble.
For additional information or inquiries about "A Heart in Pieces: A Return from Devastation", contact the Christian Faith Publishing media department at 866-554-0919.
https://www.prweb.com/releases/m_e_mastersons_newly_released_a_heart_in_pieces_a_return_from_devastation_is_an_intense_memoir_of_a_life_of_shattered_dreams/prweb15776101.htm#!